There's no quicker and easier way transform a room than with a fresh coat of paint. When you're finished, there's nothing better than the pride and satisfaction that comes along with a job well done.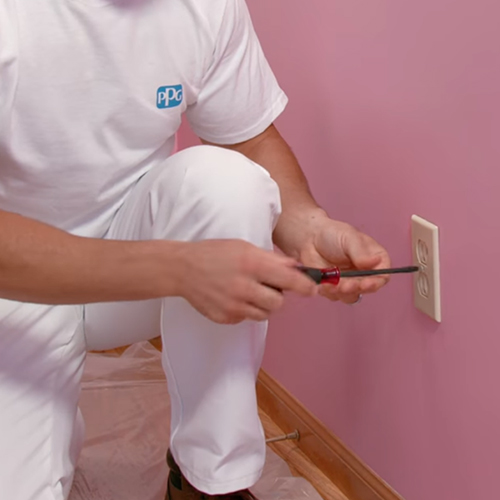 STEP 1:
Prepping the room
After you've found the right color, start by removing artwork and window coverings, along with wall plates and light switch covers, keeping the screws with them.

Clear as much movable furniture as possible so you can navigate the space easily and avoid any potential spills or accidents.

Move the rest of your items to the middle of the room so there's enough space for a ladder all the way around the space. Cover the pieces in the middle of your room with drop cloths or plastic.
STEP 2:
Quick clean
Clean your walls with a mild detergent, then rinse them gently to clean off any dirt or debris. Allow the walls to dry. Patch holes and imperfections with lightweight, shrink-free spackle and sand after the areas dry. Gently clean the sanded areas.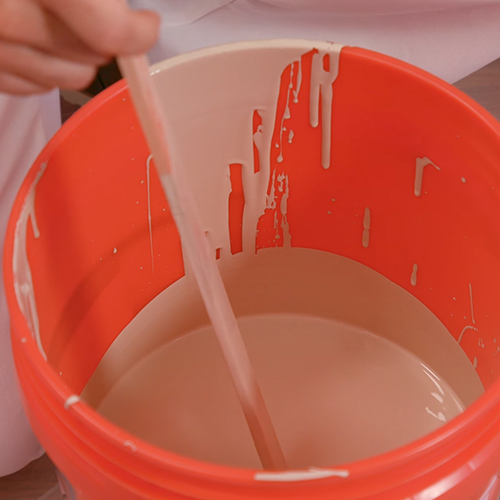 STEP 3:
Prep your paint
Mix your paint in a five-gallon bucket if your job requires more than one gallon to maintain color consistency and to minimize any issues that could require touch ups.
STEP 4:
Tape time
Use 1 ½ or 2-inch painter's tape to mask the baseboards, trim and other areas you are not painting.

Secure the tape firmly so it doesn't peel or allow paint to bleed through.
STEP 5:
Get to the painting
Use a 2-inch angled paint brush along the edges of the walls to begin. Work from a small bucket of paint, holding the brush like a pen.

Start in edges or corners of the room that will be difficult to reach with a roller. Be sure to paint your ceiling first if your project requires that.
Refer to the product label, Technical Data Sheet (TDS) and Safety Data Sheet (SDS) for detailed safety and application instructions.
STEP 6:
Roll it on
Once you finish brushing in hard-to-reach detailed areas, you can begin using a roller. Put enough paint in your tray to cover your roller. However, don't soak the roller and remember to roll any excess paint off your roller to avoid splashing. Roll your paint on in a "W" pattern starting in the upper left corner of the wall. When you start hearing a noise like tape pulling off of the wall, re-load your roller. Work in relatively small areas from the top to the bottom.

You can avoid visible roller lines by continuing your final stroke all the way down the wall.
STEP 7:
Finishing touches
Next, use an angled sash trim brush to paint trim and doors. The angled brush allows you to reach corners easier while keeping your lines straight. Also, be careful not to run paint into the walls that you've already finished.
STEP 8:
Clean up
To make sure you don't peel off any dry paint, remove the painter's tape while the paint is still wet. However, don't remove the tape if you are still painting an area or object nearby. After all of the surfaces have been covered and given enough time to dry, remove all of the painting supplies and tools from the room.

Now, you can rearrange your furniture and start enjoying your freshly painted room.

find the perfect color for your room