Touchup is applying a small amount of paint to a larger surface. Ideally, the paint used is the same as the original, or a higher quality paint, and should match the existing paint color and sheen as closely as possible.

See All Pro Painting Tips See All Pro Resources
Why do we need to do touchups?
To cover small blemishes (after painting an original job)
To correct issues like picture framing around doors
The goal of touching up paint is to provide a small amount of paint to a larger surface to get it to blend, creating an even, unbroken film of the same color. Depending on the type of coding being applied (ie. Alkyd/Latex), this will determine the best method used for touching up paint.
The choice of paint is an important consideration, with paint manufacturers providing several qualities of paint— ranging from good to better and best to premium. The higher quality paints generally allow for a better experience of touching up paint, creating a more uniform paint film, with less likelihood of the need to touch up.
Gloss/Sheen Level
The Gloss/Sheen Level will play a critical role in any paint touchup, as well as the color of the product: Flat paints tend to touchup and blend more easily in both Alkyds and Latex paints The touchup with Alkyds paints tend to be more glossy and require one week to one month of blending time to reach the same gloss or color of the original paint application.
Latex paint, regardless of the gloss level, will touchup better than an Alkyd simply because there is much less change in the gloss and color on the aging of the paint on the substrate; it may still take several days though to reach the same color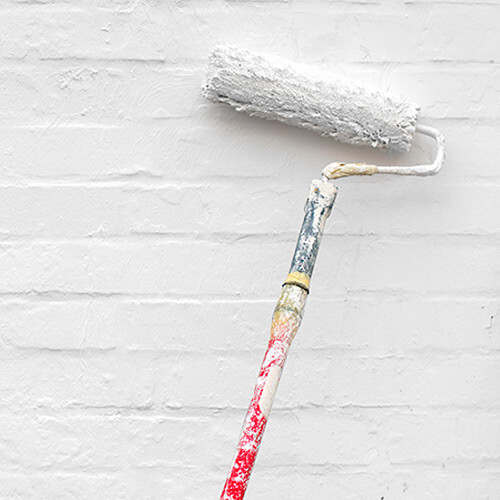 Application Process
When a touchup is performed, it's important to use the same application tool that was used on the original application of the paint (ie. Spray, roller, or brush).
If more than one gallon of paint of the same color is being used, it's a good practice to box them together— which means to combine all of the gallons together into the same container. This will help to eliminate any variance in the paint color. It's also a good practice to keep any leftover paint you may have so that you can eliminate any difference in the paint color when touching up.