Follow our living room painting guide.
Once you've decided that your living room needs a fresh coat of paint, there are several key steps to take. We developed a step-by-step guide to ensure your room turns out just the way you want it to if you choose not to hire house painters and instead, Do It Yourself.
Step One
Choose Your Colors
Painting a living room starts with the right colors. First, decide what you want your room to feel like: casual, fun, or formal? Casual colors are more neutral, such as Desert Dune, Shark and Ghost Writer and fit well with any decor. Fun colors pop: Think bright hues that bring energy like Indian Paintbrush, Butterfly Bush or Blue Booties.

Formal colors lean toward jewel tones: deep reds, blues, or even rich browns, even blacks. Use tones like Brick Dust, Admiralty, and Onyx. For bright or formal hues, know they're best used as accents alongside neutrals to keep the room from becoming overwhelming.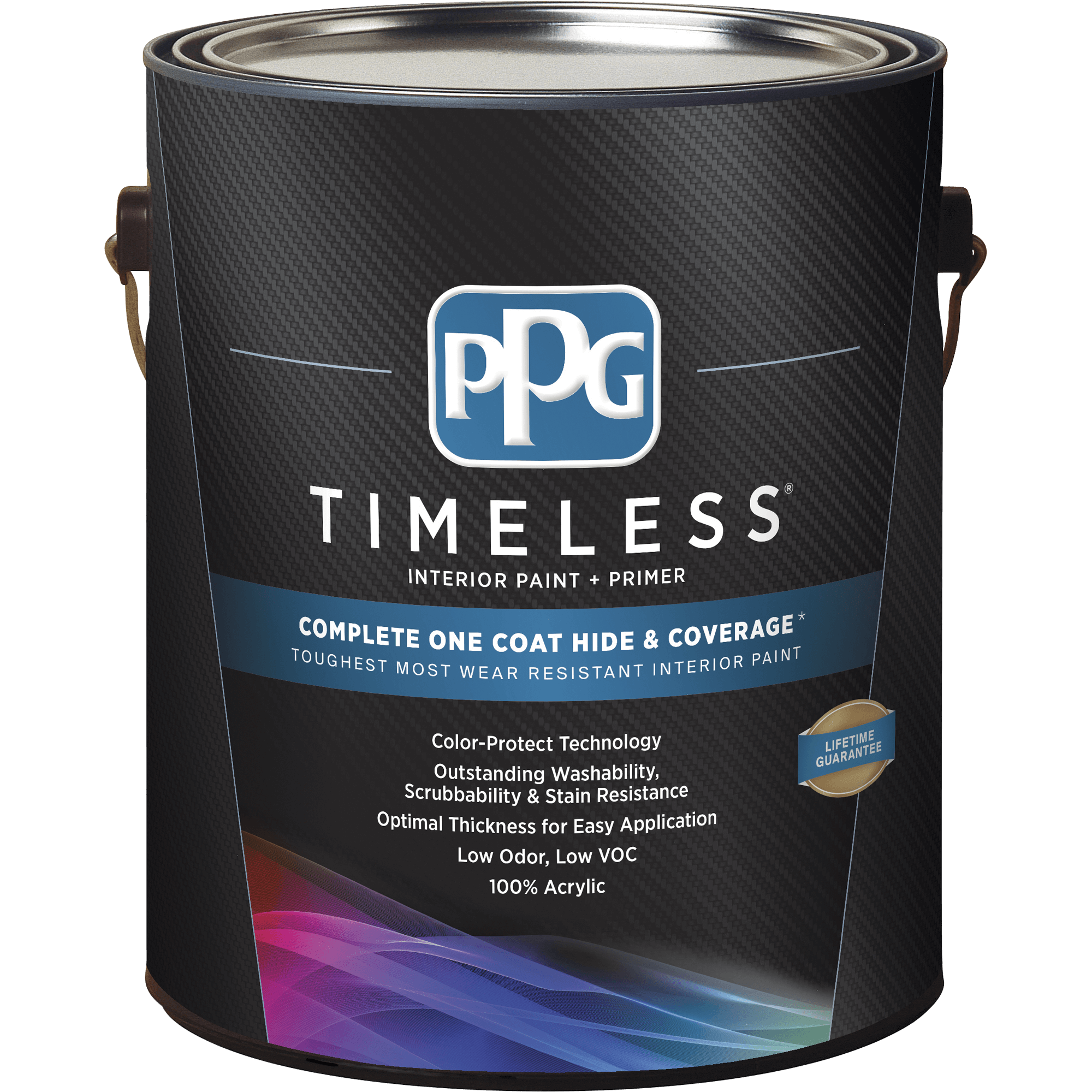 Step Two
Choose the Paint
We recommend PPG Timeless Interior Paint and Primer In One for the best results. PPG Timeless Interior Paint is both beautiful and durable, and available in 1,000 one coat* colors.

Choose Your Paint

*One coat coverage only when tinted to colors specified for PPG Timeless Interior Paints.
Step Three
Decide on a Sheen
We recommend eggshell and satin sheens for the living room. While flat paint is great at hiding surface imperfections and is easy to touch-up, satin sheens offer a nice gloss and is easier to clean. Eggshell is somewhere in between these two.

Semi-gloss paints provide the greatest washability, however they aren't recommended for livings rooms because the shine enhances any wall imperfections such as bumps, patches, or unevenness in drywall.
Step Four
Get Your Supplies
Before going to the next living room painting steps, collect the supplies you'll need to take you from start to finish.
paint brush
paint roller
paint roller tray
sandpaper
drop cloths
painter's tape
rags
step ladder(s)
Step Five
Prep The Room
Remove wall hangings, curtains, and switch and outlet covers. Put drop cloths down to protect floors and furniture, use caulk to fill nail holes, then wipe walls clean of dust and dirt.

Apply painter's tape to straight edges – like over baseboards and around windows and door frames.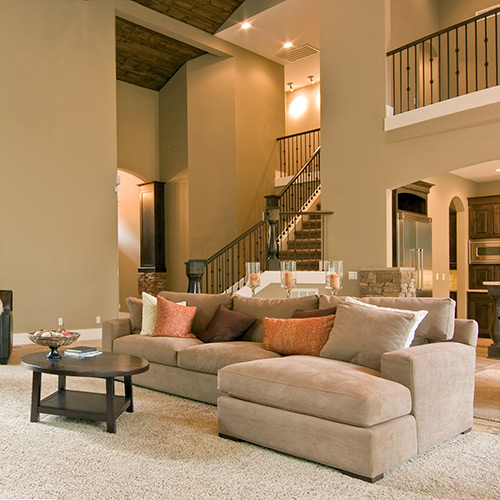 Step Six
Paint Your Walls
The final step in this living room painting guide is to, well, paint! If you'll be painting your ceiling, start there and work your way toward the floor. First trim the ceiling and walls in a 2" paint line using a brush. Then switch to a roller to cover the main portions of the walls.

You don't have to be a professional to makeover the heart of your home. Patience and prep can make this weekend project a rewarding investment.

EXPLORE ALL PAINT COLORS