PURE PERFORMANCE® Interior Latex
Size
Gallon/3.78 L (01), Quart/946 mL (04), 5 Gallons/18.9 L (05), Drum/200 L (55)
Sheen
Flat, Eggshell, Semi Gloss
Are you a pro?
Use our new online ordering tool.
Buy this Paint Online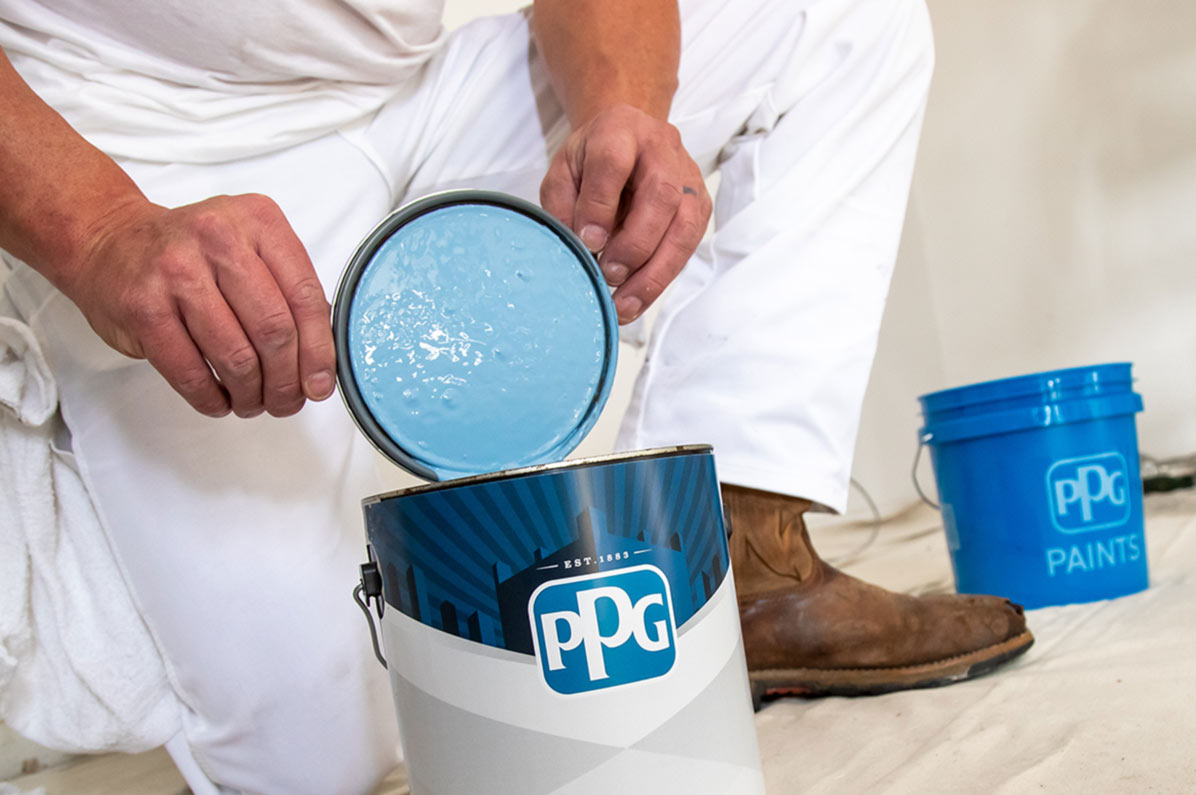 Product Details
Our premium low-odor, zero-VOC* (volatile organic compounds) latex base paint is designed to meet the performance requirements of the institutional, commercial and residential markets. PURE PERFORMANCE® Paint & Primer in One Interior Latex is formulated to provide excellent hiding and application properties in addition to low odor, zero-VOC's*, and anti-microbial properties - a mold/mildew resisting compound has been incorporated in this paint to make the dry paint film mildew resistant. Ideal for use in occupied areas such as: hotel/motel resort properties, nursing homes, homes, schools, government facilities, retail space, office buildings, hospitals, and apartments.
Features:
Zero VOC* & Low Odor
Provides a Mold & Mildew Resistant Coating
Paint & Primer in One
High Hiding
Looking for a datasheet? Access PPG's full datasheet portal here or visit https://products.ppgac.com/
| | | | | |
| --- | --- | --- | --- | --- |
| Code | Finish | Base | Sizes | Download |
| 9-100 | Flat | Ready Mix White | Gallon/3.78 L (01), Quart/946 mL (04), 5 Gallons/18.9 L (05), Drum/200 L (55) | |
| 9-100C | Flat | Ready Mix White | Gallon/3.78 L (01) | |
| 9-110 | Flat | White & Pastel Base | Gallon/3.78 L (01), Quart/946 mL (04), 5 Gallons/18.9 L (05) | |
| 9-110XI | Flat | White & Pastel Base | Gallon/3.78 L (01), Quart/946 mL (04), 5 Gallons/18.9 L (05), Drum/200 L (55) | |
| 9-110XIC | Flat | White & Pastel Base | Gallon/3.78 L (01), Quart/946 mL (04), 5 Gallons/18.9 L (05) | |
| 9-120 | Flat | Midtone/Intermediate Base | Gallon/3.78 L (01), Quart/946 mL (04), 5 Gallons/18.9 L (05) | |
| 9-120C | Flat | Midtone/Intermediate Base | Gallon/3.78 L (01), Quart/946 mL (04) | |
| 9-140 | Flat | Neutral/Ultradeep/Accent/Clear | Gallon/3.78 L (01), Quart/946 mL (04) | |
| 9-140C | Flat | Neutral/Ultradeep/Accent/Clear | Gallon/3.78 L (01), Quart/946 mL (04) | |
| 9-300XI | Eggshell | Ready Mix White | Gallon/3.78 L (01), Quart/946 mL (04), 5 Gallons/18.9 L (05) | |
| 9-300XIC | Eggshell | Ready Mix White | Gallon/3.78 L (01) | |
| 9-310 | Eggshell | White & Pastel Base | Gallon/3.78 L (01), Quart/946 mL (04), 5 Gallons/18.9 L (05) | |
| 9-310XI | Eggshell | White & Pastel Base | Gallon/3.78 L (01), Quart/946 mL (04), 5 Gallons/18.9 L (05) | |
| 9-310XIC | Eggshell | White & Pastel Base | Gallon/3.78 L (01), Quart/946 mL (04), 5 Gallons/18.9 L (05) | |
| 9-320 | Eggshell | Midtone/Intermediate Base | Gallon/3.78 L (01), Quart/946 mL (04), 5 Gallons/18.9 L (05) | |
| 9-320C | Eggshell | Midtone/Intermediate Base | Gallon/3.78 L (01), Quart/946 mL (04) | |
| 9-340 | Eggshell | Neutral/Ultradeep/Accent/Clear | Gallon/3.78 L (01), Quart/946 mL (04) | |
| 9-340C | Eggshell | Neutral/Ultradeep/Accent/Clear | Gallon/3.78 L (01), Quart/946 mL (04) | |
| 9-500 | Semi Gloss | Ready Mix White | Gallon/3.78 L (01), Quart/946 mL (04), 5 Gallons/18.9 L (05) | |
| 9-500C | Semi Gloss | Ready Mix White | Gallon/3.78 L (01) | |
| 9-510 | Semi Gloss | White & Pastel Base | Gallon/3.78 L (01), Quart/946 mL (04), 5 Gallons/18.9 L (05) | |
| 9-510XI | Semi Gloss | White & Pastel Base | Gallon/3.78 L (01), Quart/946 mL (04), 5 Gallons/18.9 L (05) | |
| 9-510XIC | Semi Gloss | White & Pastel Base | Gallon/3.78 L (01), Quart/946 mL (04), 5 Gallons/18.9 L (05) | |
| 9-520 | Semi Gloss | Midtone/Intermediate Base | Gallon/3.78 L (01), Quart/946 mL (04), 5 Gallons/18.9 L (05) | |
| 9-520C | Semi Gloss | Midtone/Intermediate Base | Gallon/3.78 L (01), Quart/946 mL (04) | |
| 9-540 | Semi Gloss | Neutral/Ultradeep/Accent/Clear | Gallon/3.78 L (01), Quart/946 mL (04) | |
| 9-540C | Semi Gloss | Neutral/Ultradeep/Accent/Clear | Gallon/3.78 L (01), Quart/946 mL (04) | |
USGBC LEED® v4
CAGBC LEED® v4
MPI
SCAQMD
CARB 2000 SCM
OTC
LADCO
US National AIM
Canada National AIM
Greenguard (US)