PROLUXE® Log & Siding Wood Finish
Size
Gallon/3.78 L (01), Quart/946 mL (04), 5 Gallons/18.9 L (05)
Sheen
Toner/Transparent, Clear
Are you a pro?
Use our new online ordering tool.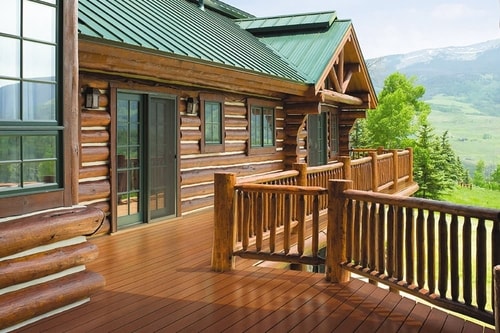 Product Details
A high performance, translucent satin wood stain finish for vertical surfaces with exceptional color richness and clarity. This wood stain formulation offers optimum protection and a premium look in just two coats.
Features:
High-Performance Translucent Satin Wood Stain Finish for Vertical Surfaces
Flexible, High-performance resin wood stain technology resists cracking and peeling
High Clarity, Film-Building Formula in a two-coat wood stain application
Area Preparation
GENERAL SURFACE PREPARATION: All wood surfaces must be thoroughly clean, dry and free of dirt, grease, grime, mildew, mill glaze and previous coatings before applying PROLUXE (TM) Log & Siding Wood Finish. Cleaning Recommendations: 1. Spray all wood surfaces with clean water, completely wetting the wood. 2. Generously apply a cleaning solution of four (4) ounces of 100% powdered Tri-Sodium Phosphate (TSP) or phosphate-free substitute with one (1) quart of liquid bleach and three (3) quarts of water to the wood surfaces with a garden sprayer or a heavy nap roller cover. 3. Let the solution dwell on the wood for 15-20 minutes as you scrub the surface with a hard bristle brush to help remove mill glaze or weathering. Do not allow solution to dry on the wood surface. 4. Power wash cleaning solution from the wood with plenty of clean fresh water using 500-800 psi with the nozzle 8-12 inches from the surface for full effectiveness of the cleaning and to prevent damage to the wood. 5. Allow the surface to dry for 48 hours, or to have a moisture content of 18% or less before finishing. 6. For achieving optimum wood surface porosity and natural uniformity sand all pre-cleaned wood using 80-120 grit sandpaper for vertical surfaces. Always sand in the direction of the wood grain and remove sanding dust. 7. PROLUXE(TM) Log & Siding Wood Finish should be applied within four weeks for vertical surfaces (siding), provided that the surface remains free of dirt, grease, grim and mildew. NEW WOOD - Clean and prepare all wood surfaces as specified under
GENERAL SURFACE PREPARATION. Pressure treated wood must be properly seasoned, dry with a moisture content of 18% or less and free of salts and other water soluble materials before applying stain. Water- repellent treated lumber
requires one year minimum of weathering prior to cleaning and application.
EXOTIC HARDWOOD - Ipe, mahogany, iron wood, tiger wood and teak woods exhibit a dense cell structure which may reduce the ability of a coating to penetrate the wood surface. Clean and prepare surface as specified under GENERAL SURFACE PREPARATION. Immediately prior to applying coating, wipe surface with acetone.
WEATHERED UNCOATED WOOD – Clean and prepare surface as specified under GENERAL SURFACE PREPARATION.
PREVIOUSLY COATED WOOD - Previous stains, varnishes or sealers must be completely and thoroughly removed prior to application of Log & Siding Finish. After removal of previous coatings. Clean and prepare surface as
specified under GENERAL SURFACE PREPARATION.
WARNING! If you scrape, sand, or remove old paint, you may release lead dust. LEAD IS TOXIC. EXPOSURE TO LEAD DUST CAN CAUSE SERIOUS ILLNESS, SUCH AS BRAIN DAMAGE, ESPECIALLY IN CHILDREN.
PREGNANT WOMEN SHOULD ALSO AVOID EXPOSURE. Wear an NIOSH approved respirator to control lead exposure. Clean up carefully with a HEPA vacuum and a wet mop. Before you start, find out how to protect
yourself and your family by contacting the National Lead Information Hotline at 1-800-424-LEAD or log on to www.epa.gov/lead.
Application Details
DO NOT APPLY TO HORIZONTAL SURFACES THAT WILL BE EXPOSED TO FOOT TRAFFIC.
Buy sufficient product for the whole job. Stir thoroughly before and often during use. Do not thin.
Before starting, apply to a small area and allow stain to dry to ensure acceptable appearance and penetration.
When using more than one container of the same colour, intermix to ensure colour uniformity.
Log & Siding colour Natural Light will weather faster than others and is not recommended for use on dark coloured
woods.
Apply when air and surface temperatures are 10 to 32°C (50 to 90°F). Do not apply in direct sunlight, if rain, snow, heavy dew
or low temperatures below 4°C (40°F) are expected within 48 hours. Application using a natural bristle brush
is the preferred method. If applied by roller or airless sprayer, back brush immediately to ensure penetration and to avoid an uneven finish. For airless spray, use a .011—.013 in., tip at 1200 – 1700 psi, adjust pressure as needed.
Apply one even coat, in the direction of the grain avoiding heavy application. To help avoid lap marks, apply to only a few boards at a time, and maintain a wet edge. Saturate all end grains, nail holes, cracks in the wood and the back of all boards if
possible. Allow to dry a minimum of 24 hours. Apply a second coat.
NOTE: Tannin containing woods such as redwood, red cedar, mahogany, Douglas fir contain tannic acid which tends to migrate to the surface and can discolour the finish. The discolouration is not harmful and can usually be removed by cleaning with a
solution of 120 g of oxalic acid to 3.78 L of warm water. Apply with a garden sprayer or heavy nap roller cover. Allow to sit on the surface for 20 minutes. Rinse thoroughly with clean water. DO NOT ALLOW solution to dry on wood surface.
Drying Time
Dries to touch in approximately 12 hours. Dries to recoat in 24 hours additional coat may increase these times. Low temperature, high humidity, thick films or poor ventilation will increase these times.
Avoid heavy abrasions immediately following application.
Coverage
On rough and weathered surfaces, 150-225 sq ft/gallon (3.7-5.5 m2/L). On smooth surfaces or hardwoods, 300-400 sq ft/gallon (7.4-10 m2/L).
Actual coverage may vary depending on the type, age and texture of the wood and application method.
Cleanup
Clean tools immediately with mineral spirits. Clean spills right away with a damp cloth.
Product Warning
PRECAUTION: Dry sanding will give rise to dust and/or hazardous fumes. Wet sanding should be used wherever possible. Wear suitable respiratory protective equipment when exposure cannot be avoided by adequate local ventilation. WARNING! If you scrape, sand, or remove old paint, you may release lead dust. LEAD IS TOXIC. EXPOSURE TO LEAD DUST OR FUMES CAN CAUSE SERIOUS ILLNESS, SUCH AS BRAIN DAMAGE, ESPECIALLY IN CHILDREN. PREGNANT WOMEN SHOULD ALSO AVOID EXPOSURE. Wear a properly fitted NIOSH-approved respirator and prevent skin contact to control lead exposure.
DANGER! COMBUSTIBLE LIQUID AND VAPOR. HARMFUL IF INHALED. HARMFUL IF ABSORBED THROUGH SKIN. HARMFUL OR
FATAL IF SWALLOWED. CAUSES RESPIRATORY TRACT, EYE AND SKIN IRRITATION. Sanding and grinding dusts may be harmful if
inhaled. Inhalation of high concentrations of vapor may affect the central nervous system. Repeated exposure to high vapor concentrations may cause irritation of the respiratory system and permanent brain and nervous system damage. High vapor concentrations can cause headaches, dizziness, drowsiness and nausea and may lead to unconsciousness. Can enter lungs and cause damage. Keep away from heat and flame. Do not breathe vapor or mist. Do not swallow.
Do not get on skin or clothing. Avoid contact with eyes. Keep container tightly closed and sealed until ready for use. Wash thoroughly after handling. Provide fresh air ventilation during and after application and drying. Avoid the inhalation of dust, particulates, spray or mist arising from the application of this preparation.
Use personal protective equipment as required. DANGER - RAGS, STEEL WOOL OR WASTE SOAKED WITH LOG & SIDING WOOD FINISH MAY SPONTANEOUSLY CATCH FIRE IF IMPROPERLY DISCARDED. IMMEDIATELY AFTER EACH USE, PLACE RAGS, STEEL WOOL OR WASTE IN A SEALED WATER-FILLED METAL CONTAINER. Note: These warnings encompass the product series. Prior to use, read and follow product-specific MSDS and label information.
FIRST AID: If swallowed, rinse mouth with water (only if the person is conscious). Call physician immediately. Do not induce vomiting unless directed to do so by medical personnel. If in eyes, rinse with water for 15 minutes. Check for and remove any contact lenses. In case of contact, immediately flush skin with plenty of water while removing contaminated clothing and shoes. Get medical attention immediately. If inhaled, remove to
fresh air. Call physician immediately. Keep out of the reach of children. For workplace use, an MSDS is available from your retailer or by calling (412) 492-5555.
EMERGENCY SPILL INFORMATION: (412) 434-4515 (U.S.).
Looking for a datasheet? Access PPG's full datasheet portal here or visit https://products.ppgac.com/
| | | | | |
| --- | --- | --- | --- | --- |
| Code | Finish | Base | Sizes | Download |
| AKN00299 | Toner/Transparent | Ready Mix Custom Color | Gallon/3.78 L (01) | |
| AKN00300 | Toner/Transparent | Ready Mix Custom Color | Gallon/3.78 L (01) | |
| AKN00302 | Toner/Transparent | Ready Mix Custom Color | Gallon/3.78 L (01) | |
| AKN00303 | Toner/Transparent | Ready Mix Custom Color | Gallon/3.78 L (01) | |
| AKN20604 | Clear | Clear Finish | Quart/946 mL (04) | |
| AKN23101 | Toner/Transparent | Ready Mix Custom Color | Gallon/3.78 L (01) | |
| AKN62910 | Toner/Transparent | Ready Mix Custom Color | 5 Gallons/18.9 L (05) | |
| AKN62912 | Toner/Transparent | Ready Mix Custom Color | Gallon/3.78 L (01) | |
| AKN62914 | Toner/Transparent | Ready Mix Custom Color | 5 Gallons/18.9 L (05) | |
| AKN62918 | Toner/Transparent | Ready Mix Custom Color | 5 Gallons/18.9 L (05) | N/A |
| AKN62920 | Toner/Transparent | Ready Mix Custom Color | Gallon/3.78 L (01) | |
| AKN62922 | Toner/Transparent | Ready Mix Custom Color | 5 Gallons/18.9 L (05) | |
| AKN62926 | Toner/Transparent | Ready Mix Custom Color | 5 Gallons/18.9 L (05) | |
| AKN62930 | Toner/Transparent | Ready Mix Custom Color | 5 Gallons/18.9 L (05) | |
| AKN62938 | Toner/Transparent | Ready Mix Custom Color | 5 Gallons/18.9 L (05) | |
OTC
LADCO
US National AIM
CARB 2000 SCM
Canada National AIM