Homeowners and property managers need to do their utmost to promote the durability, and the good looks, of their buildings. Paint is an easy to apply component that can help builders to achieve this goal. Unfortunately, it is susceptible to many serious forms of damage that include the issue known as blistering.

See All Pro Painting Tips See All Pro Resources
What Is Paint Blistering?
Internally
Paint blisters are gas bubbles that are trapped beneath the surface of newly applied coats of paint. These blisters can form on the interior or exterior walls of buildings. Moisture retention is the driving force behind most outbreaks of blistering. Wood and other building materials are actually somewhat porous, and they can absorb significant amounts of liquid. Interior sources of moisture include kitchens and bathrooms. Water vapor from these areas can leech through walls and collect underneath coats of paint. This vapor may then expand, causing loss of paint adhesion and bubbling.
Externally
Externally, moisture from humidity and rainwater can seep into untreated wooden end-joints or other exposed areas of the woodwork. This moisture can also migrate outwards and cause paint blistering in the process. In addition to these processes, weather conditions can also cause paint blistering issues. For example, hot weather conditions can cause the thinners mixed with fresh paint to vaporize and expand outwards. The vaporized thinner presses against thin layers of dried paint, causing the classic blistering effects. Moist conditions can also have a similar effect. If painters allow excessive amounts of moisture to accumulate on freshly painted surfaces, bubbles and blisters are often the unfortunate results.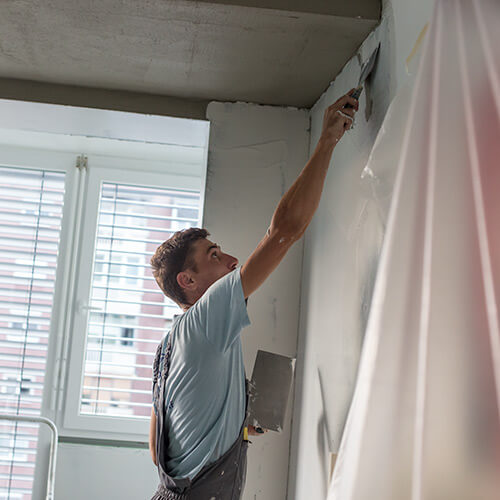 How To Fix Paint Blistering
The best way to fix paint blistering is to prevent it from happening. To achieve this goal, property managers should ensure that wooden building components are well-protected from moisture. On the interior front, builders can install water vapor-barriers on the interior surfaces of exterior walls. These tools prevent water vapor from penetrating into walls and causing blisters. Builders can also treat any exposed areas with water-repellent caulk. To back these measures up, home and commercial property owners should include adequate ventilation exhaust fans in high-humidity areas.

Externally, paint application personnel should only apply paint when the outside weather conditions are temperate. If they apply paint during hot weather, they should coat surfaces after sun-exposure, not before. In addition, workers should avoid painting early in the day when condensation may form on fresh coats. To round things out, property managers should ensure that glazing around windows and flashings are in solid condition.
Remember For Your Next Project
To mitigate the effects of existing blistering damage, painters should remove areas of paint separation with sanders, brushes, or scrapers. Repair persons should then clean the exposed surfaces, sand them, and prime them with high-adhesive alkyd primers. Once the primers cure, painters can re-coat the previously-bubbled surfaces.

There is no doubt that blistering is an ever-present threat to any property. That said, residential and commercial property owners who keep these basic tips in mind can steer clear of this issue.
More Pro-Tips